I have the great pleasure of working with some up and coming authors and speaking to students who are learning to write and I have realized two things:
1) students are REALLY interested in the writing process, and
2) I am REALLY passionate about sharing what I have learned with both students and aspiring authors.
I know the ins and out of editing a book before it is sent to the printers, and so…. I made an editing tool to help students (and writers) prepare their picture book manuscript for an editor or illustrator. This template is easy to use, and when you have finished copying your story into it, you can print it off and staple it together to get a real feel for what your book might look like!
Whether you are considering writing your own children's book, or are encouraging writing in your students or family, this is the perfect editing tool for your manuscript.
Did you know 32 pages is the standard for children's books? Or that almost all children's picture books are under 1000 words? If you check the books on your shelf, you will see for yourself!
The word count has to do with how much is appropriate for different ages, but the number of pages is a logistical thing. It has to do with how the paper comes off a printing press before it is bound into a book. The cheapest and most efficient way is to make it 32 pages long, so that is the standard for the industry.
And so…. I present my 32 Page Picture Book Template. It has space for your story AND some insider knowledge for navigating the publishing world.
Below is an overview of how the 32 pages is laid out. (It's included in the template, as well.) You can see that the first three pages are taken up by the Title Page, The Copyright Page, and the Dedication Page. That leaves 29 pages for an author's manuscript to spread across.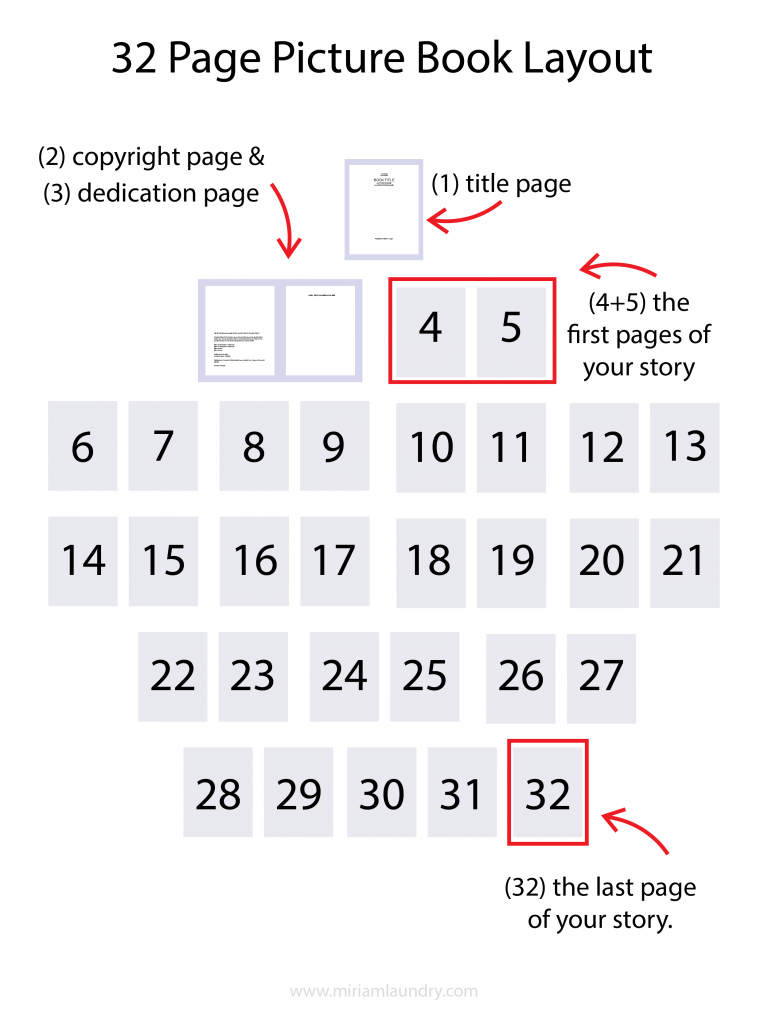 I am a visual person. When I wrote my first book I made a low-tech, stapled together, bunch of papers (32 in total). Then I printed off my manuscript and cut out the sections of text that I thought would do well on each page, and I glued them in. Very technology advanced…. I know.
While this may be a very simple thing, it was so necessary! I NEED to see something and hold it in my hands to get a feel for what it will look like. This "hardcopy" helped me edit my draft. It helped me make sure each page was a "page turner," and had a flow that kept the reader engaged.

When I wrote my first children's book, I had NO IDEA of these printing norms. All I had was an idea, that I thought could be great, and a deep desire to make a difference. I hope this tool can help make the whole process easier for you.

Feel free to download my Picture Book Template and use it to educate your students and kids OR edit your own manuscript.
Did you know that I coach aspiring authors and publish children's books? If you have a children's book you want to publish, consider submitting your idea for consideration.