Maya & Filippo Show Aloha (free on Kindle): http://www.amazon.com/gp/product/B00U2JD7RM
Book Description – Have you ever been to Hawaii? Let Maya & Filippo show you around! Learn important facts about the islands' geography and history. Discover the culture of Hawaii with its lei, ukeleles and hula dance. But there's more. Learn how to live the spirit of Aloha with Maya & Filippo. If you enjoy kids' books, this will be a wonderful introduction to Maya & Filippo's world of cruise travel.
"An engaging book to entertain and educate young readers about the Hawaiian lifestyle and culture."
Rating: 5.0 stars from Readers' Favorite Reviews.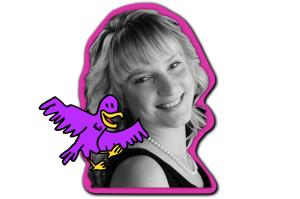 Alink Rutkowska is an award-winning and best-selling author having written the Maya & Filippo Series, which starts with Maya & Filippo Show Aloha.
How long have you been an Author for and what inspired you to start writing?
I published my first book in 2010 because I felt like I had an important message to share with the world. That was a non-fiction self-improvement book and in it I shared what worked for me on my journey of self-development.
I published my first Maya & Filippo book for children in 2013. All books in this series are inspired by my cruise travel around the world and my positive mindset.
What is a book that impacted you as a child?
I read Think and Grow Rich when I was very young (in primary school) and that triggered my research about how our thoughts impact our world. It's been 20 years since I read that book and I still agree with its premise although with years of practice I've build upon it and modified it in my mind. That mindset is present in all my books.
Favourite book now?
My favorite children's book is "The Gruffalo" by Julia Donaldson.
My favorite YA book is "The Ancient Guardians" by S.L. Morgan.
My favorite adult book is "Ask and It is Given" by Esther and Jerry Hicks.
What is your favourite thing about being an Author?
Freedom. I love it that I can travel around the world and live off my writing and author related services. All I need is my laptop and an internet connection.
This is an absolutely fantastic time to be an author!
What was your biggest challenge about becoming an Author?
The path to becoming an author has been natural and easy for me. I think I was meant to do it, even though I started my career in business in large corporations.
I think the biggest challenge for most authors is to make a living off their writing. Many engage in other activities like speaking and coaching to make ends meet. Here's where my business mindset really helped. I run a thriving business for authors which compensates if my fiction underperforms.
Any tips for aspiring Authors out there?
Just do it! If you believe you have a message to share with the world, then the world needs your book and you need to get that book out there.
Once you're done with all the edits, check out my free book "200 Book Marketing Tips". It contains advice and resources shared with me by award-winning authors and it will show you how to be one step ahead of other authors. You can download it here: http://alinkarutkowska.com/authors-home-gift/
What are you working on next?
I just finished my first fantasy novel (with NaNoWriMo). I'm very excited about writing in this completely new genre. I'm getting very positive feedback from readers and I can't wait to get it out there. But it will have to go through a series of edits before I publish it.
I've been posting my first draft as I was writing it in November. If you want a sneak peek, go here: https://www.wattpad.com/story/53314371-unearthly-love-early-encounters-unearthly-love
How can our readers find you?
Through my website: http://alinkarutkowska.com. You can get a free children's book from the award-wining Maya & Filippo series here: http://alinkarutkowska.com/gift/
ENTER TO WIN A FREE COPY OF Maya & Filippo Show Aloha!!
To enter to win leave a comment on our blog before Midnight Wednesday, December 9, 2015. This is part of WIN WEDNESDAY where we will be giving away a book every wednesday until Christmas! We will announce the winner on Thursday morning on our Facebook page.